Tickets:
$48 Stands
$60 Floor
*Includes all fees and tax
*Seats are General Admission by section
*Ages 8 and up
Doors open at 7pm
Don't miss the biggest live music event to hit Vernon in years! VWC and A&W are proud to present the 2023 Snowglobe Concert 'Country Barn Burner'! Featuring Country music sensations, The Reklaws! Plus a special musical guests Ashley Cooke and Michael Daniels and the one and only DJ Lunchboxx! This isn't just a concert, it's a must see Carnival event, with prizes for best dressed country gear and crew's having the most fun. It will be Vernon's largest party!  There will be a beverage garden and VIP areas! Get your tickets in the stands or join us in the Stompin' Grounds on the floor!
Born and raised in rural Ontario, The Reklaws are made up of sibling duo Jenna and Stuart Walker. With the fastest-ever Canadian country song to go GOLD in the streaming era, six 2021 CCMA Awards nominations, and two 2022 JUNO Awards nominations, we think you'll become fast fans of this local duo if you're not already super fans like us!
Don't miss The Reklaws with special guests Ashley Cooke and Michael Daniels live at Kal Tire Place Feb 10th!  Listen to PURE Country Vernon for more info.

**Parking is limited – there will be a FREE Shuttle offered from The Village Green Centre and the Vernon Rec Centre to Kal Tire Place running from 6pm-12am on Friday Feb 10th.
We encourage those who can use this service to do so
AMT and debit access is limited at Kal Tire Place. We would encourage people to come with cash in hand to purchase beverages.
Thanks to our sponsors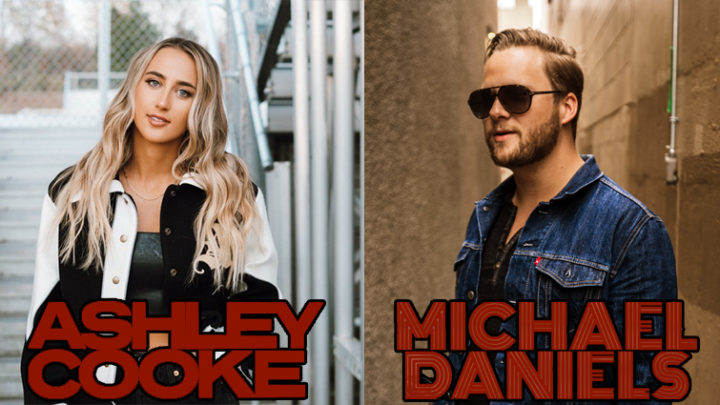 Ashley Cooke
Raised between the coasts of California and Florida, Ashley Cooke is an up-and-coming country artist who is bringing authentic and honest storytelling to her music. The singer/songwriter developed her love of country music as Rascal Flatts, Jason Aldean and Florida Georgia Line quickly became the soundtrack of high school. Cooke followed her passion for music to Belmont University where she won the Country Showcase, placing her in an elite class of winners that includes Brad Paisley, Chris Young, Tyler Hubbard of Florida Georgia Line and more.
In Aug. 2021, Cooke released her debut project Already Drank That Beer, featuring 8 tracks written by Cooke alongside many of Nashville's hottest songwriters. Produced by award-winner Jimmy Robbins, the debut project garnered critical acclaim from Rolling Stone, People, Taste of Country, Sounds Like Nashville, Country Now and more. In April, Cooke enlisted Country megastar Brett Young to feature on standout track "Never Til Now" which Billboard tapped as a "superb vocal blend" proving her "bright future ahead within the country music genre" (CMT). Resonating with fans far and wide, the romantic love song prompted Cooke to make her national television debut on ABC's "The Bachelorette."
Website: https://www.ashleycooke.com/
https://ashleycooke.ffm.to/nevertilnow.oyd
Michael Daniels
Michael Daniels is a country music singer/songwriter, born in Regina and raised throughout Western Canada. He first started singing and playing guitar at his family's Saskatchewan cabin when he was a kid, learning the three-chord cowboy songs strummed by his Grandma and Uncles.
In 2019, he was a semi-finalist in the "International Song writing Competition" for his song, "Yours Tonight". During the Covid-19 pandemic, he turned his attention to social media and quickly amassed tens of thousands of followers on TikTok with millions of views. His 2021 TikTok song, "Sunset Left", gained 3 million plays and on April 12th, 2022, landed him on the TV show, "Canada's Got Talent", where judge, Howie Mandel, commended his performance.
Website: https://www.officialmichaeldaniels.com/